My warmest felicitations and salute to the graduating batch of 2018!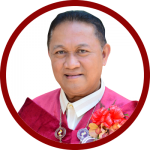 You deserve the loudest applause from the people who believe in your potentials and capabilities.  Your parents, guardians, siblings, teachers, school mates, and friends are jubilantly grateful of your achievements and milestone years in this academic arena.
As you leave the portals of this institution and face the real battle of life, let your dreams take you to the corners of your smile, to the highest of your hopes, to the windows of opportunities, and to the deepest of your commitment.   Always think positively and aim for excellence in everything you do with all your heart and soul. "You will falter; you will make mistakes. All of us do.  What will keep you going is if you truly love what you're doing," said Wolf Blitzer, CNN's lead political anchor.
Allow me to share with you four of the myriad of ingredients in living a happy and purpose-driven life— which I also call 4 Ps— perseverance, patience, placidity, and passion.  The first P calls for persistence and determination; the second reminds us to endure with fortitude in the midst of adversities; the third tells us to keep calm and unruffled despite difficulties; and the last P simply appeals to our burning desire and dedication in serving God, our families, and our community over and above personal interest.
Hindmost, we are looking forward to successful triumphs and victorious feats in your respective fields of specialization and turfs.  Make EVSU even prouder as you bring more laurels to its seat of wisdom.
Once again, congratulations and to God be all glory and honor.
DOMINADOR O. AGUIRRE, JR., D.M. (Sgd.)
University President III